Last year Sky installed their LLU equipment in my telephone exchange. I had thought about moving to Sky but with reports of poor connections and the fact that I was more than happy with ADSL24 I elected to just leave it as is.
However, after a recent phone bill from BT I decided to look at LLU providers again. I cannot and will not ever move to BT Broadband due to their traffic shaping policy. I am not what I would call a heavy broadband user but BT classed me as one as I downloaded around 14Gb per month – which is nothing compared to many.
The companies on my exchange are as follows :
As I do not have a mobile phone with Orange and don't want to be with Talk Talk I decided to look into Sky. Being a Sky customer already, Sky offer Unlimited broadband for £12.50 per month or £7.50 per month (free for first 3 months) if we sign up to their Sky Talk service.
Their online checker reported my line being able to support a maximum of 0.5Mb which concerned me considering I already had a 2.8Mb connection but I decided to take the risk and duly signed up for Sky Broadband, Sky Talk with line rental.
My activation was 14th January 2011.

I am a few days into my 10 day line test and so far my connection has risen from just under 3Mb as shown below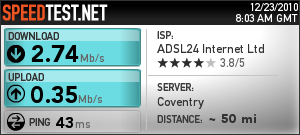 to just over 5Mb!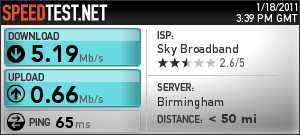 So far in my limited tests I am really impressed with Sky. No speed slow downs, not too much lag in online games (though ping is not as low as it was I plan on moving to a gamer profile later if it does cause me a problem) and web pages are displaying instantly.
My phone line transfers to Sky on 31st January 2011 so I will know a lot more then on how things are going. However, with saving at least £12.10 on broadband costs and the saving compared to BT line costs I really think I made the right move 🙂
Time will tell 😉