Since the original Apple iPhone came out back in 2007 I have always been with O2.
Having signed up for a 18 Month contract with the Original iPhone I was over the moon with O2 when they allowed me to upgrade to the iPhone 3G when it was released by Apple and duly purchased the iPhone 3G and more recently the awesome iPhone 4. In the beginning every thing was fine, 3G internet access, calls, text everything worked perfectly.
However, things started to go wrong last year with O2. Their 3G network was terrible for internet access whenever I was at the football. What I could not understand was why one season it was ok and the next it wasn't  so blamed it on a combination of the Stadium of Light and O2! After asking my followers on twitter who they were using and their experiences I discovered a bit of a pattern :
O2 – Woeful once at the Stadium
Orange – Not as bad but does fail
Vodafone – As Orange
Three – No feedback
T Mobile – No feedback
So I guess that there were simply too many people in one location for the mobile operators to cope with.
Recently on twitter a couple of people had mentioned a Three MiFi and how they use it as an alternative connection to O2 as they could get a better connection whilst on the road or wanted an internet connection for their iPad whilst out of range of a WiFi network.
As I have not been happy with O2 for sometime due to their connectivity problems I decided to purchase a PAYG MiFi from Three in order to trial the Three network and see what it's like compared to O2. After checking the pricing I opted to buy a MiFi with 3Gb data which lasts 3 months on PAYG, and costs £69.99, so that I can "trial" the Three network and see what it is like. I also used topcashback.co.uk (referral link) to get £12.00 off the cost.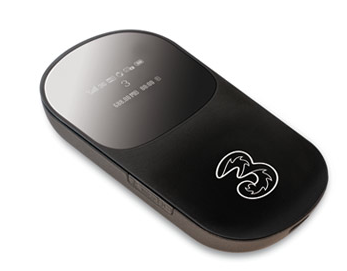 For those which don't know what a MiFi is it's basically a 3G dongle with built in WiFI, this clever little device allows up to 5!! devices to share a 3G connection on the Three mobile network. You can either get the MiFi on a 12 month contract or on a PAYG basis.

As you can see from the information above the MiFi on Three is MUCH better than O2's network on my iPhone. I suspect that the O2 network simply cannot cope with the the massive increase in smart phones, be it Apple iPhone's, Andriod driven phones or even those strange Windows driven things 😉
So far in my testing the Three network seems far superior to O2's and once my contract expires in June 2011 I will be migrating to Three with my next iPhone!