Since I moved to Sky for my phone and broadband we were offered the ability to have Sky Anytime+ I duly signed up but was told the Wireless adaptor would cost around £60 and as the broadband router is nowhere near my Sky box I needed to find an alternative and hopefully cheaper solution that does not involve running CAT5 cable through two rooms.
Doing a search on Google and eBay I found that there were several USB powered wifi bridges I could use, a quick test of my Sky HD box shows that the USB port is inactive and provides no power. Back to Google I went and found that quite a few people were using a TP-Link Wireless Access Point.
So I opted for the TP-Link TL-WA701ND 150Mbps Wireless Lite N Access Point
 which was only £17.99 from Amazon.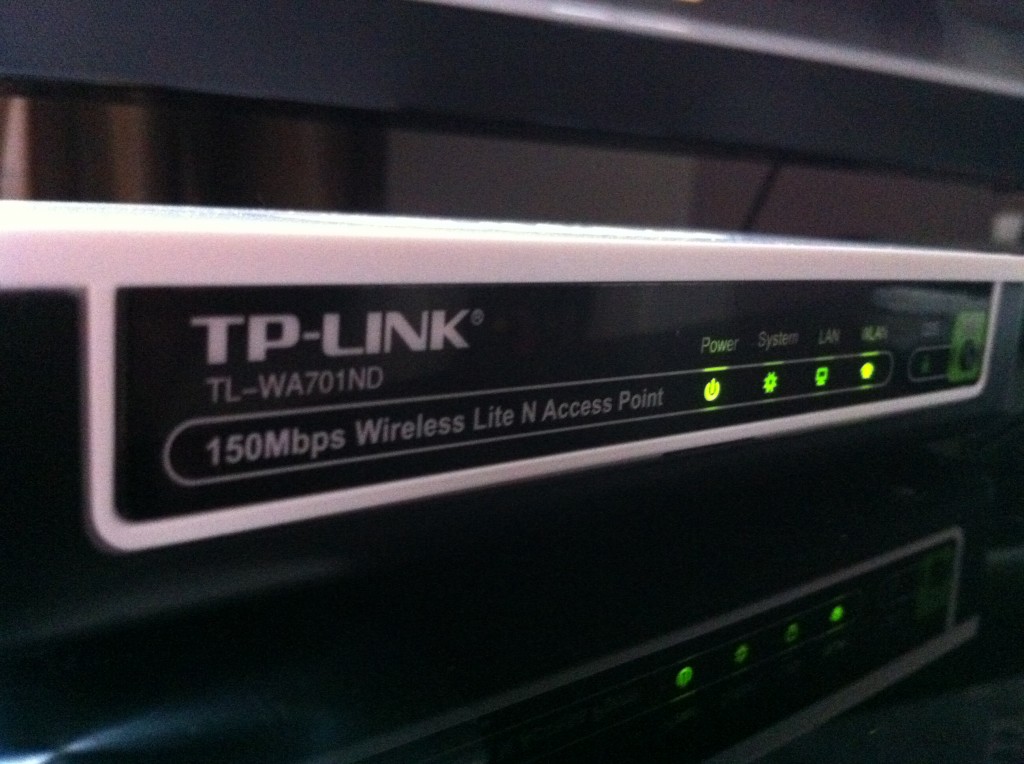 In order to set up the TP Link you need a computer. I connected the device to my MacBook Pro via the supplied ethernet cable and configured my Ethernet Network settings as follows :
Manually
IP : 192.168.1.100
Subnet : 255.255.255.0
Router : 192.168.1.254
Fired up Safari and connected to 192.168.1.254, entered the admin username and password (which is admin by default). As Sky configure their broadband routers to be on the 192.168.0.1 – 192.168.0.255 range you need to change the IP address of the TP-Link Box.
To do this you need to click on the Network link on the left hand side and change the values on that page. I configured mine as follows and clicked save.
Network
Type : Static IP
IP : 192.168.0.254
Subnet : 255.255.255.0
Gateway : 192.168.0.1 (This is my Sky router IP address)
Once the device rebooted I logged back in to the admin pages (the device should automatically refresh to 192.168.0.254) and continued to set the wireless part of it up.
Wireless
I elected to set it up in Client mode with the following settings :
Enable WDS : unchecked
SSID : My wireless network name
Region : United Kingdom
Channel Width : 20/40Mhz
Enable Wireless Radio : checked
I then clicked Survey, clicked connect on my wireless network from the list of wifi networks that it had found.
This then put the MAC address of the Sky broadband router in the MAC of AP box and finally I clicked save. At this point I was offered to reboot, you can at this point but there is no need as you will have to reboot it later.
Wireless Security
Selected WPA-PSK/WPA2-PSK
PSK Password : entered my wireless network password, everything else was left as is and I clicked save. Again I was offered to reboot, do not reboot yet.
DHCP Settings
In the DHCP setting page I set it up as follows and clicked save. At this point I rebooted the device.
DHCP Server : Enable
Start IP 192.168.0.100
End IP 192.168.0.101
Default Gateway : 192.168.0.1
Primary DNS : 192.168.0.1
Once the TP-Link device had rebooted I then plugged the Ethernet cable in to the Sky HD box
On the Sky HD Box
From the TV Guide I selected Settings -> Network -> Select
The Sky box then performed a Network search and came back with the following
Local Connection : OK
Service Connection : OK
IP Address : 192.168.0.100
DHCP : ON
That's it,  Sky Anytime+ is now working great.