Setting up O2 SMTP server on the iPhone
For months I have struggled intermittently to send email from my iPhone when not connected to WiFi or a decent signal. This was infuriating me a lot so I decided to see if there was something I could do about it. I thought the easiest way was to set up a SMTP connection to the ISP, this of course being O2 and a quick scan of Google confirms that this would work.
Rather than editing the existing SMTP connection settings you can add a new one by doing the following :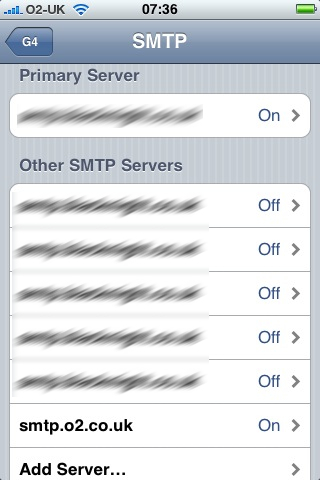 Tap Settings -> Mail, Contacts, Calendars -> Click on mail account you wish to edit
Scroll down to Outgoing Mail Server and tap SMTP
Tap Add Server
Then enter the following information
Hostname : smtp.o2.co.uk
Username : youro2username@o2.co.uk
Password : youro2password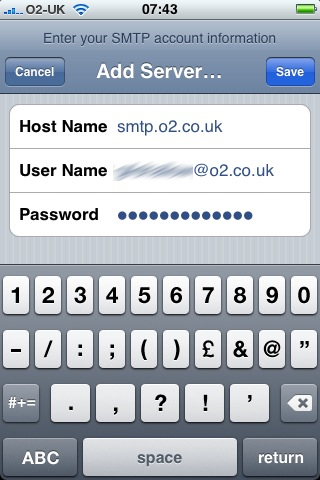 Tap Save, now this is the important bit , be patient. It can take a while before it verifies the connection. Once this has finished you need to go back into the setting and turn it on and ensure the other settings are as follows:
SSL : OFF
Authentication : Password
Port : 25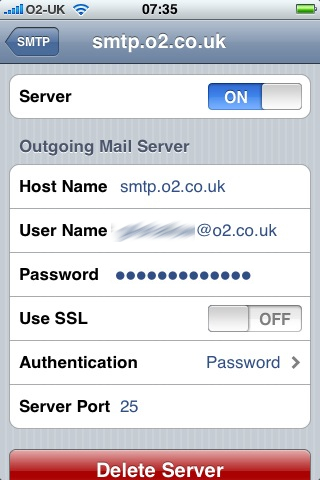 Now, when you send email it will try your primary SMTP server first and if that fails it will then use your alternative SMTP server. (I have lots of email accounts set up on my iPhone hence there being a lot in the Other SMTP servers.
I hope this helps a few people.