Sunderland's first away game of the 2009/2010 Premier League campaign started with a 1-0 win over Bolton.
My son and I set off for the relevant straight forward journey down to Bolton. What could be easier, A1 -> M1 -> M62 -> M60 -> M61. However, driving along the M1 warning signs were flashing stating that the M61 was closed Northbound between junctions 6 – 8. We stopped at the services for a loo break, picnic and decide what we should do.
After studying the maps I elected to stay on the Motorways and see when the traffic started to mount up and make a further decision then. I always set off with plenty of time but was quite concerned if we would get there on time. To be honest it was not that bad. Traffic was tailed back to Junction 5 of the M61, so a quick tap on the Avoid Roadblock button on FatTom (My TomTom Go 910) and off we went at junction 5 in a loop around to where I had decided to park. Managed to get to the stadium just after 2pm.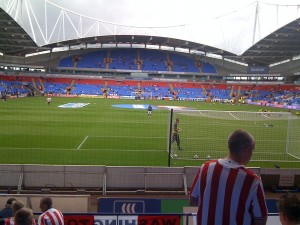 We, the boy and I have rarely seen Sunderland win away from home. We spent a fortune last season going to quite a few away games and never saw them win! 🙁 Still, I was excited by the prospect of what the new signings would bring. Cana, Cattermole and Bent were all in the starting line up so I was hopeful of a decent performance.
First half we started fantastically. Within 5 minutes, Darren Bent scored with a cracking header on his debut and within 20-30 mins we should of had the game dead and buried and on top with a 3-0 cushion. Bolton did not seem to have any ideas whatsoever. Second half however, Bolton were well back in the game and I admit was starting to worry that Sunderland would revert back to trying to hold on the slim 1-0 scoreline.
Although Bolton did not really look like scoring for the majority of the game they could of grabbed an equaliser at the end of the first half and at the end of the game. Fulop made some outstanding saves to keep a clean sheet and to record Sunderland's first away win in a long time.
Cana, Cattermole and Bent all had great debut's. Cattermole was outstanding in my opinion and was definitely MoM! Steve Bruce has made some fantastic signings and I really can't wait to see how the season will pan out.