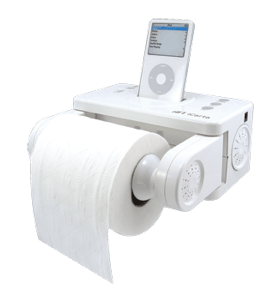 I came across this image on The Unofficial Apple Weblog which was posted way back in 2007. I have never heard of this, nor seen this device before so I had to find out more about it.
It's called the iCarta, which is described as a Stereo Dock for iPod® with Bath Tissue Holder.
Features :
• 4 Integrated high performance moisture-free speakers deliver exceptional
clarity and high quality sound
• Charges your iPod while playing music
• Audio selector allows you to play iPod shuffle or other Audio device
• Integrated Bath tissue holder that can be easily folded as a stereo dock
• Requires AC Power (AC Adapter included)
• Easy to remove from Wall Mount
Power Requirements:
12V, 1.5A AC adapter
Speakers:
2 x tweeters for highs
2 x woofers for lows
I certainly would not buy one of these, though I guess some people would, such as those with novelty singing toilet seats.
A review of this can be found on iLounge.